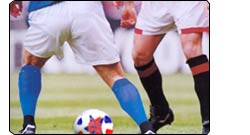 Soccer Trainers of America and soccertrainers.com
In 1998, both Soccer Trainers of America (STA) and soccertrainers.com were launched.
Soccer Trainers of America:
Soccer Trainers of America was founded in the summer of 1998 as a small group of elite, licensed soccer coaches dedicated to providing STA-only training programs. STA was met with tremendous success and opportunities, but recognized the importance for players to experience different types and levels of training from different coaches. It was then that STA embraced its competition with open arms and established a way for all soccer organizations and soccer coaches across the United States to participate with us and offer our services together. Diverse experience is the best way for a player to experience the beautiful game, and all the different personal and training experiences it offers, at its very best.
soccertrainers.com:
soccertrainers.com was established in the fall of 1998 as a single, central, internet-based location for youth soccer players and teams to find or request soccer camps and specialized soccer training programs (personal/individual, small group and team) from dedicated, licensed soccer coaches from various soccer organizations all over the United States. Coaches and staffs who have the ability to coach and train players yet also demonstrate the skills and fundamentals necessary to help players succeed at soccer's highest levels. These professional coaches are called "Soccer Trainers". Their camps, clinics, individual training and more are called "Training Programs".
Soccer Trainers of America, solely relying on promotion and administration from soccertrainers.com has recruited and trained over 3,000 youth soccer players from all over the United States since 1998!
---
Soccer Players & Parents:

We are very proud to be providing such a successful platform for youth soccer players and Soccer Trainers to come together. We are committed to providing this wonderful service to the soccer community long-term. Whether you are a youth soccer player, a parent or just an aspiring soccer fan, we encourage you to join and participate in our network!

JOIN NOW »
Already a Member? Log In at the left.

Soccer Coaches & Soccer Organizations:

Whether you are a professional, college, high school or youth coach or organization, you can join STA's National Network of Soccer Trainers. Join our Network to offer and promote your camps or specialized services and be connected with youth soccer players and teams from across the United States. More importantly, being a Network Soccer Trainer puts you in unique company.

JOIN NOW »
Already a Member? Log In at the left.
---
We are always working on new improvements to this Web Site, so be sure to check back often for exciting new and exciting additions to soccertrainers.com!